Chairman of the Board and Founder
Baruch Chaim Manies
Baruch Chaim Manies is the founder and driving force behind United Refuah HealthShare. He is an entrepreneur and CEO of FiveStar Store It, a national storage solutions company, and ClimbZone, a national franchise company for family entertainment. With his expertise in managing large scale operations and experience in various communal and charitable organizations, Baruch Chaim harnesses his passion to help and positively impact the Jewish community. Recognizing the overwhelming financial burden of healthcare costs on the average Jewish family, he created a solution. United Refuah HealthShare is an organization that answers the question of rising healthcare costs for Jewish families by offering them a communal and viable option for managing these costs. When he is not busy at work or learning, he can be found volunteering for local and national organizations. Originally from Brooklyn, NY, Baruch Chaim spent 17 years in Yeshiva of South Fallsburg before moving to Cleveland Heights, Ohio, where he and his wife, Leeby, are raising their children.
---
Board Member
John Brown, CPA
John Brown received his BA from Cleveland State University before pursuing his CPA. Currently, John is the President of John D. Brown CPA, Inc. He is a founding board member with over 30 years of experience as an external auditor for nonprofit organizations, such as an organization that works with at-risk youth. Throughout his professional career, he has always taken on projects that aim to give back to the community and genuinely help people in need.
When John is not hard at work, you can find him fishing, biking, or golfing. John lives in Aurora, Ohio, with his wife of 39 years. They are the proud parents of two accomplished adult children.
---
Board Member
Dr. Samuel Salamon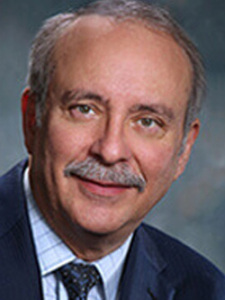 Dr. Salamon MD, FRCSC, FACS is a board-certified ophthalmologist and one of the founders of The Cataract Eye Center of Cleveland.  Dr. Salamon completed his medical training at the Albert Einstein School of Medicine in New York. Throughout his career, Dr. Salamon has conducted clinical trials and published extensively.  Dr. Salamon helps guide United Refuah HealthShare, when necessary, as an advising medical authority. Dr. Salamon resides in Cleveland, Ohio, with his wife Ruthie, RN. When the Salamons are not administering medical care, you can find them at home enjoying the company of their children and grandchildren.
---
Board Member
Alan Schabes 
Alan Schabes graduated Magna Cum Laude from Hofstra University Law School in 1981. He is a senior partner at the  Benesch, Friedlander, Coplan and Aronof, LLP law firm in Cleveland, Ohio. Over the last decade, he has been repeatedly nominated to the Best Lawyers in America ranking list. Alan practices health care law and advises United Refuah HealthShare in matters pertaining to medical laws and regulations. When Alan is not practicing law or volunteering, you can find him and his wife, Lisa, surrounded by their children and grandchildren.  
---
Board Member
Nathan Wiedemann
Nathan Wiedemann received his BS in Finance from the University of Baltimore and his JD from Case Western Reserve University (2007). He is currently Of Counsel at Benesch, Friedlander, Coplan and Aronof LLP  law firm in Cleveland, Ohio.  At Benesch, part of Nathan's responsibilities are overseeing and facilitating transactions for companies in federally regulated industries, such as healthcare.  He brings this experience to the United Refuah HealthShare board.  Nathan is passionate in his belief that Jewish families should have access to a health care alternative. He resides with his wife, Devora, and their family in Lakewood, NJ.
---
Board Member
Zvi Rokowsky
Zvi Rokowsky, has been involved with United Refuah Healthshare since its inception. He learned in the Talmudical Yeshiva of Philadelphia (1990-1996) and then studied in the Mir Yeshiva (Jerusalem) for almost ten years. Currently, Zvi is a real estate and property manager for Diversified Management Plus. He is involved in various initiatives to created affordable options for the myriad large expenses facing members of the Jewish community, such as weddings and healthcare. Zvi lives with his wife, Esti, and their children, in Cleveland Heights, Ohio.